What some of our customers have said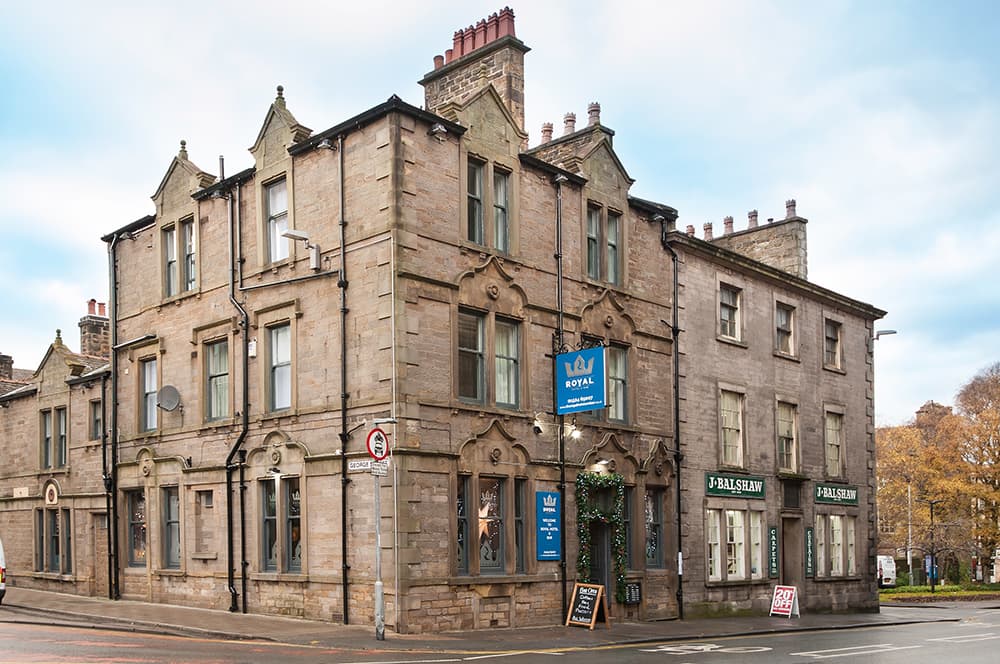 Extensively refurbished in the Autumn of 2016, The Royal Hotel & Bar is ideally located to explore the area.
From the vibrant city centre, to the outstanding natural beauty of the Trough of Bowland and the Lake District, Lancaster offers something for everyone. And if you are unsure of what to do next, we are more than happy to point you in the direction of our local attractions.
Couldn`t fault our stay –

Ideal location just a short walk from the city centre. Staff very pleasant and helpful. Our room in the attached annex at the rear of the pub was very clean, beds comfy. Didn`t hear any noise from the pub, very quiet. Nice touch was the complementary fruit and cereal which was available if required.
My partner and I absolutely loved our stay at the Royal. The room looked just as good as the photographs online, if not better. It was spotlessly clean and very tastefully decorated. Every staff member I came across was friendly, helpful and relaxed and definitely added to the quality of our stay. Anybody staying will undoubtedly have a wonderful experience! Many thanks to the team, well done!
While getting married in Lancaster my wife and I chose to spend the night after the ceremony at The Royal – alongside meeting with family and friends there the night before the wedding, and the afternoon afterwards. The team at the Royal couldn't have been any more accommodating – they ensured there was plenty of space for our family and friends to meet and enjoy themselves, which really kicked off our wedding weekend perfectly. Cannot recommend this place enough
We had two nights in this delightful hotel. Staff were exceptional so helpful in every way. Lovely rooms and the hotel is in a good position to see Lancaster. Also the car was in a safe enclosed parking space by the hotel.
A lovely, comfortable and friendly hotel in the heart of Lancaster –
Excellent location, comfortable room, and even though there's no breakfast, there is in fact a very useful little breakfast bar area which we used for a quick cereal, fruit and coffee breakfast every morning. A very nice touch. Staff were very friendly and helpful, both on email and in
person. We needed good WiFi to do some work every morning and it was actually brilliant, which was a huge relief and allowed us to get work
done early and enjoy the rest of our day. Overall a very pleasant and comfortable hotel, which we would certainly come back to.
From arrival to departure the staff could not have been more accommodating! The hotel is very welcoming, lovely spacious room with great facilities and a comfortable well stocked bar. I would definitely stay again.
We loved everything about our stay, the room was a superior room and was spacious, clean, very well decorated and the bed was fabulous, a very thick comfortable mattress. The staff were all very friendly and couldn't do enough for you. I would definitely stay here again and will be booking again soon.
Beautiful rooms – very clean and decor was really lovely. Super comfy bed was amazing! Staff very friendly, great bar downstairs. Great value considering it's right in the centre. We'll come again for sure!
The property was great, it is in a great location and was clean and tidy and the staff were exceptional. I will definitely be staying again and would recommend to anyone
Perfect location, with small reasonably priced Council run car park adjacent to property. The Hotel has a popular courtyard beer garden and well appointed, clean bedrooms; together with friendly, helpful staff