GRAB A DRINK AND A WOOD FIRED PIZZA!
HERE AT THE ROYAL HOTEL & BAR, WE OFFER JUST THAT – 14 FABULOUS HOTEL ROOMS AND BAR FULL OF WONDERFUL OFFERINGS IN WAY OF WORLD WINES, SPIRITS AND CRAFT BEERS AND YOU CAN EVEN GRAB A PIZZA IF THE BAR SNACKS JUST DON'T QUITE FILL YOU UP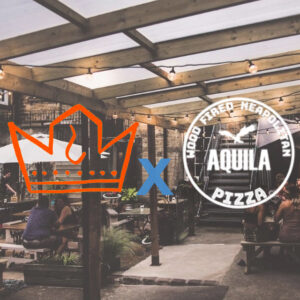 WE'VE PARTNERED WITH THE WONDERFUL AQUILA PIZZERIA, MEANING YOU CAN NOW ORDER AUTHENTIC NEAPOLITAN WOOD FIRED PIZZA STRAIGHT TO YOUR TABLE AT THE ROYAL!
IT'S AS EASY AS SCANNING THEIR QR CODE & HEY PRESTO, FRESH PIZZA COMING RIGHT UP!
AVAILABLE MONDAY – SATURDAY 5PM – 9PM
(9.30PM ON FRIDAYS & SATURDAYS)